Campaign on Right to Food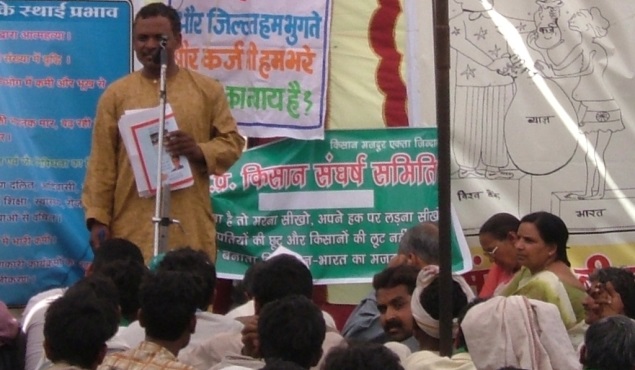 A speaker addressing gathering during Right to Food Campaign
Sampark provided fellowships to budding social worker for expanding work related to rights to food and security to work in different regions of Madhya Pradesh.Though the fellowships given under Right to Food Campaign, the workers were expected to conduct activities to ensure implementation of eight major schemes linked to people's welfare and food security schemes. These programmes and schemes are run by Government through the help of respective panchayats. The workers were also expected to motivate and sensitize to the voluntary organisations in their operational areas to work on rights to food and security issues.
Sampark coordinated this work from year 2004 to 2006. During these two years, public distribution system and government income generation schemes were studied and associated issues were raised widely across the state. Status of public distribution system was studied in seven districts and on the basis of this study six collective and 17 personal issues were brought into the notice of the District Collectors concerned through village secretariat. Probes were carried out in these issues and 14 personal and three collective issues were resolved. A state level public hearing was also carried out on public distribution system. A total of 620 people, including representatives of 44 voluntary organisations and people's organisations participated in the hearing.
The most remarkable achievement of this programme was that several organisations joined hands to work on rights to food and security issues. Better coordination has developed with people's organisations. Media was sensitised and they prominently raised issues related to rights to food and security issues. The Government accepted that it had failed to ensure access of the people to the people welfare programmes and schemes. At the community level, awareness about these programmes and schemes has increased and the people have started raising demand for these programmes and schemes in organised manner.
Read Document: The Game of Targeted Public Distribution System in the Life of Tribal Communities of Madhya Pradesh