Gender Equality and Women Empowerment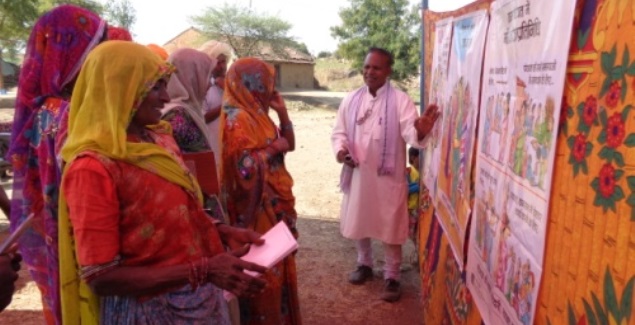 An organisational worker explaining exhibits to rural women
Sampark works with the elected women representatives (EWR) in Panchayati Raj to improve their performance as community leaders in bringing about greater gender equity and sustainable development. The Elective Women Representatives after receiving training and support from Sampark, have overcome many of their fears and inhibitions and are taking actions to reduce patriarchy in their society and also work effectively in the Panchayat to bring about development and proper delivery of government services.
Regular discussions are held on atrocities against women. The women started using the toll free helpline number 1090 for seeking help from the police. Elective Women Representatives are now monitoring anganwadis. There is major emphasis on cleanliness of anganwadis, particularly during rainy season which help children be healthy, earlier many children were fallen sick due to unhygieninc practices there.
EWRs were seldom heard in gram panchayats and in the meetings men were given more attention than women. If women representatives want their proposals to be paid attention to, it needed to be raised forcefully ;then their proposals would be easily accepted. Through the time discussions on various laws like Food Security Act 2013, Lok Sewa Guarantee Act, 2010, etc., were held for Elective Women Representatives.
There should be active participationat at grassroots level for women in panchayat elections to enhance gender equity and women centred governance and development. Meetings held to discuss and understand the problems during the election process of panchayats and their solutions achieved through community interactions.